The thing with a summit is that it's really outside of your normal business.  But beside the hook and USP, you still need to have at least one out of the box monetization idea. 
Many times the one thing you do…your out of the box idea…will move your summit into the black.
 I've given you eight principles to think about when it comes to monetization in the guide that I give you when you pick up Aurelius' Summit Secrets PLR here: 
https://theplrshow.com/your-first-interview-show/aureliust
Question From the Community: I Have Your Virtual Summit Playbook – Do I Need This? 
If you are doing a summit, I think I've given you a good path in my course. It's personal and based on my experience…I didn't go get a writer to do it. I didn't have to because I've done them (some behind the scenes).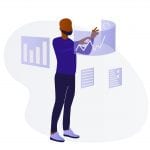 It's been an idea I've been intrigued with since 2006, when my friend did one before it was a "thing." So, I've had time to think about them. 
But if you're teaching summits to your customer base, Aurelius' PLR is giving you written content.  That means that you won't have to create your own and because of that it's a good compliment to mine. So, you should get mine for certain, if you don't have it:
 https://theplrshow.com/your-first-interview-show/vsulmtd
Upcoming In May for Ultimate Insiders 
By now, as an Ultimate Insider…hopefully we have already signed you up for: 
1) The Cloud Based Learning Center to deliver your content
2) Vidscribe – The Desktop Transcription and Translation App 
Those licenses are limited, so you want to make sure that you get signed up.  I will be adding more applications in the future to help you to build out your infrastructure to market your videos. 
This weekend, I promised to have the community portal ready and I am just about there.  I hope to have it ready tomorrow. We will try the portal for 60 days.  If it ends up being helpful, we'll keep it. 
Laurel and I don't want to post publicly about what we're doing in our own niches on Facebook, etc.  But we do want to dialogue with you about it. If you're not an Insider, you can still sign up to get all that we added for March and April.   As soon as we add Zoom PLR to the membership, the previous months will only be available to our founding members. 
Apart from the bonus software applications, Ultimate Insider is: 
1) One Full PLR Funnel Every month
2) Any Updates (Zoom PLR is an Update)
3) One Monthly Q and A Call Per Month
4) Priority Ask Me Anything Support (You are at the front of the line)
5) Searchable Archive Of Our PLR Training 
To get Started, go here:
https://theplrshow.com/your-first-interview-show/insiders
Personal Note   
There were two young men (in their 20s) that came to deliver a washer and dryer to us yesterday.   And watching them gave me real pause. Of course, they had masks and we wore ours to protect them. But the masks and Covid are really beside the point. 
I told Laurel, I watched these dudes strap a stacked washer and dryer to their bodies to carry it down the stairs and out the door.  And I was instantly humbled by this…because at 54, if I had to do what they did I would probably have been at work one day–max. 
You and I need to be thankful that we can do what we do — doing business online.  Customer complaints and fights on Facebook aren't really all that bad, if that's the worst thing you have to deal with. Some of you reading this are close to me in age or someplace in the neighborhood of my age. Can you imagine going to work and strapping a washer and dryer to your back for 8-10 hours a day? I can't. 
So, it makes me thankful that you purchase our products, which keeps me wanting to give you what you need in so that you can be effective in your online business…with no gimmicks and tricks. 
Thank you. 
Charles