Recent Statistics From Online Payment Processor
Payoneer's Special Report (Page 3)
E-Learning In The Wake of A Pandemic
And Our Connect Effectively with Teams Videos Will Position You As The Expert...
Establish Trust

Provide Reliable High Quality Information and Content That Your Customers Can Use With Confidence

Be An Authority

Create A Presence In Your Niche By Tailoring the Information To Their Specific Needs

Keep All of the Profit

Enjoy the Fruits of Your Labor…100% of All you Sell Is Yours!
Sell To Hungry Buyers

Get Started With Topics That Marketers Have Proven They'll Buy

Build Your List

Use The Content As Bait To Build A Huge Responsive List

Crush It As An Affilaite

Use Your Content As a High Quality Bonus for Relevant Offers
Announcing A Powerful Training Product With YOU As the Creator That You Can Sell At 100% Profit
Sell To People That Want to Make the Most of Their Experience and Expertise
Now more than ever before, people want to find a way to connect with the new economy.  But they have no idea of where to start.  Naturally they'll want to create their own digital or online course.
They've probably figured out how to create the the course.  They've done that before on a job or in a class or eve put up a video on YouTube.
But they've probably not put together an entire course, hosted it, made it attractive, made it deliverable and then made it easy for people to buy.
We'll that's where Teachable comes in.  This online course platform doesn't require that they have any experience.  It just requires that they have information ready to be offered and sold.  If they have that, they are eligible to use this platform.
So, we've taken the time to explain to them step by step how they can get their video content or any other way of teaching into one place to be sold.   All you have to do is get the course to them and you'll be empowering a whole new set of people.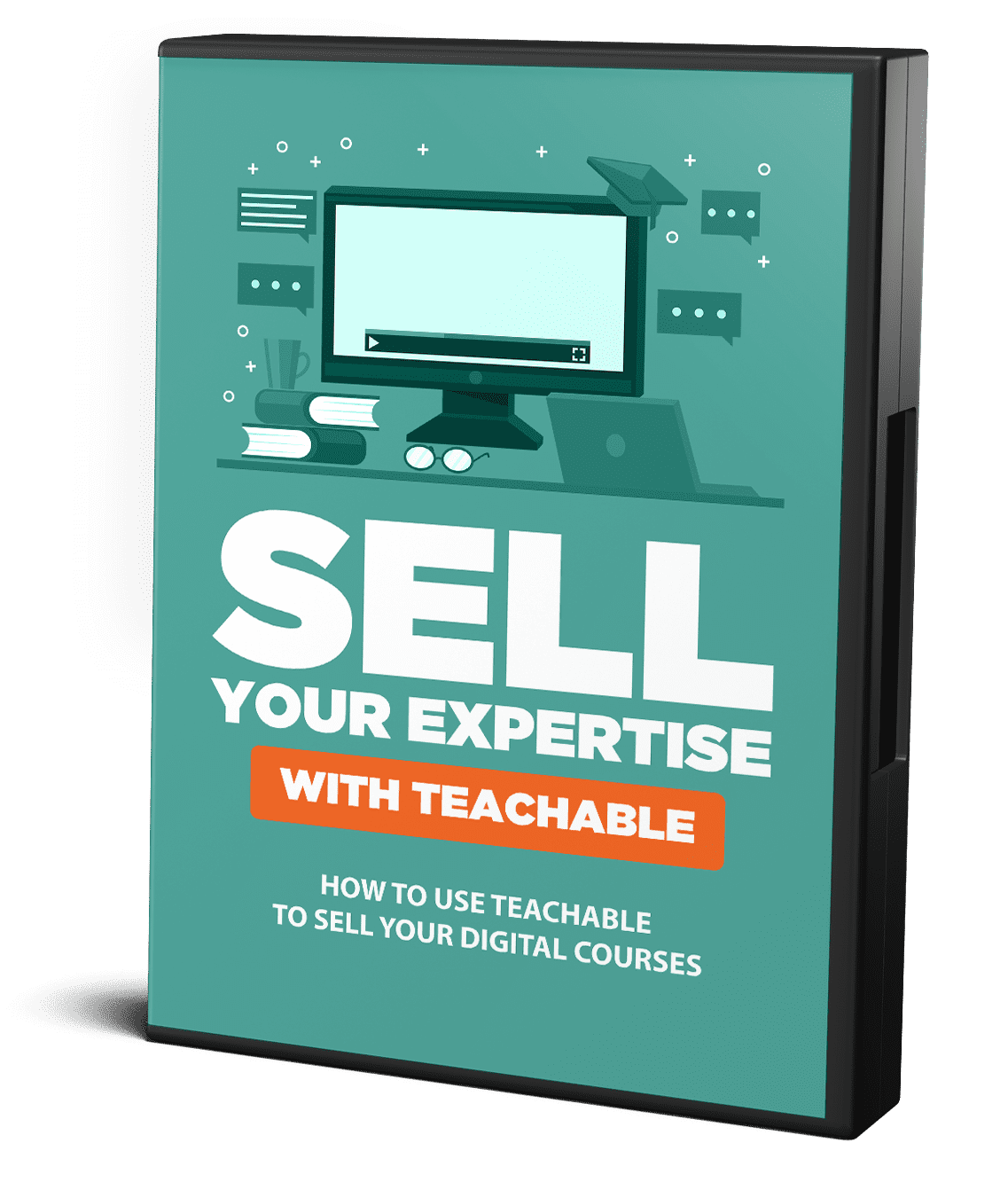 You and Your Customers Can Become an Overnight Authority With Our Simple To Follow Training and Instruction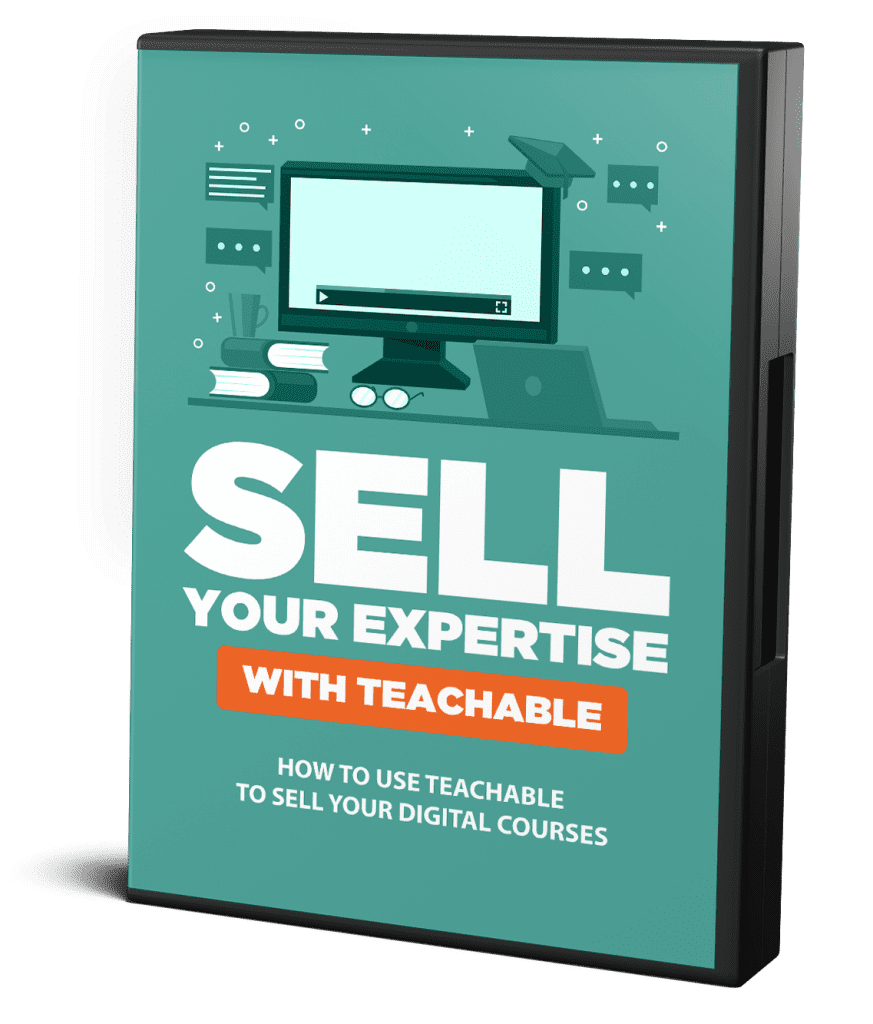 Stay on the Cutting Edge With This Course and Content
When you get a product to use or to sell, you want to sell it not just today, but a month from now...or even years from now.  Teachable has made selling digital courses accessible.  Anyone can do it, whether they are an existing small business or they want to start an information publishing business themselves.
Once your customers take the course, they'll see that it's something that...although technical is something that they definitely can do.  They'll have it demonstrated to them step by step.
All that means for you is that once they get into the course and they see it working, they'll learn to trust and rely on you.  They'll see that you can come up with the knowledge they need when they need it most.
So, it's a way for you to be a steady presence...when everybody is wondering what to do and how to do it.  You actually have the answers.   In a no-fluff way that respects their time.
You Can Position yourself with an Evergreen Course which is Perfect for Newbies AND Advanced Marketers...

Here's What You're Getting:
---



20+ High Level Step by Step Over the Shoulder Videos
0001 - Overview
0003 - Initial Entry Into Your School
0005 - Teachable Site Image Customizations
0007 - Site Settings - Pages
0009 - Users Settings
0011 - School General Settings
0013 - School General Settings - Part 2
0015 - Adding to Lectures in the Course - Part 1
0017 - Adding to Lectures in the Course - Part 3
0019 - Course Elements - Pages
0021 - Course Elements - Pages - Thank You Page
0023 - Conclusion and Important Final Elements
0002 - Pricing And Account Opening For Teachable
0004 - Teachable Instructor Basic Settings
0006 - Site Settings - Domains - Navigation - Bios
0008 - Site Settings - Advanced Elements
0010 - School Sales and Email Settings
0012 - School Blog Settings and Set Up
0014 - The Courses Tab
0016 - Adding to Lectures in the Course - Part 2
0018 - Course Elements - Information Section
0020 - Course Elements - Pages - Checkout Page
0022 - Course Elements - Certificates
| | | |
| --- | --- | --- |
| | 20 High Quality Mp3 Companion Audios | |
| | | |
| --- | --- | --- |
| | Professional Sales and Thank You Page | |
Full Set of Professional Graphics and Banner Advertisements
Plus All of the Source PSD Files
| | | |
| --- | --- | --- |
| | Full PLR Video Transcripts | |
| | | |
| --- | --- | --- |
| | TWO PLR Set Up Training Webinars | |
Ultimate PLR Set
Up Webinar
Ultimate PLR Profit
Opportunities Webinar
Everything You Can Do With This Package (Rights Defined)
All You Can Do To Build
Value With Your Purchase
CERTAINLY, You can and should use the course for your own business!
You'll Make Out Like A Bandit If You Sell It in Dime Sale Events...Go For It!
Be Adventurous...Change It Into a Physical Product and Sell It Offline or At a Seminar
Take Charge, put your name on it as the author
Don't worry..it's flexible, so you can change stuff to make it fit your individual business
While you're at it, if you need to change it into a book, a long video or long audio; be my guest; they call that repurposing these days.
I'm all for getting more money, so combine it with another product and sell it at a higher price
Live that "affiliate lifestyle", use this product as a bonus for your affiliate offer (videos only)
Bonuses make products HOT, so use this as a bonus on your launch
I could say more, but check out the certificate inside!
All That Will Devalue Your Purchase
You Cannot Sell To Your Customer With Private Label Rights
You Cannot Sell to Your Customer With Giveaway Rights
You Cannot Sell to Your Customer With Master Resell Rights
You Cannot Give the Entire Product Away with the Graphics
You Cannot Place This on Your YouTube Channel Publicly (You can do so Unlisted)
You Cannot Place This in a Free Membership Site
You Cannot Place This Inside of a PLR Membership To Give Any Kind of Rights (You can give personal use rights)
You Cannot Give the Graphics away when you use the product as a bonus (videos only)
Bonuses make products HOT, so use this as a bonus on your launch
I could say more, but check out the certificate inside!